Grassroots activists struggle to get heard against billionaires and corporations with their armies of lobbyists and PR experts. A free app offers them a megaphone.
PROTEST FACEBOOK is a grassroots group demanding that Facebook prevent its platform from being used to spread disinformation and divisiveness that could disrupt our elections. They have held rallies at Facebook offices and are planning more public protests. 
Protest Facebook needed a way to quickly explain Facebook's threat to democracy and demand change. They created an online story "Don't Zuck Up Democracy" using Kumu (a free app) and a little guidance from Democracy Labs. Read their story tinyurl.com/nozuckup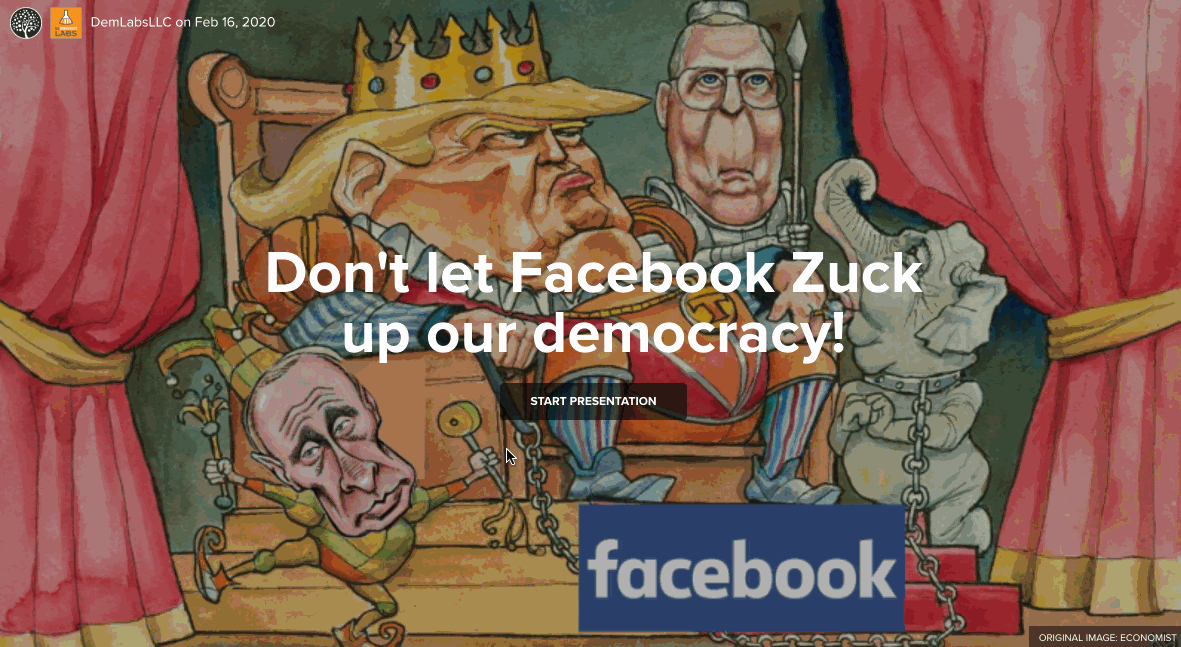 Background
Don't Let Facebook ZUCK UP Our Democracy is a joint initiative of Media Alliance, one of the oldest media change organizations and Global Exchange, an international human rights organization.
Protest Facebook is galvanizing people exasperated by Facebook's callous disregard of democracy. Its petition calling for systematic change at Facebook has already garnered over 50,000 signatures. It has organized protests at Facebook headquarters, gaining media attention from CNBC and local television affiliates. They are working on other 'Wake Up Zuck!' protests as well.
Protest Facebook needed a way to clearly explain how Facebook is destroying democracy, encourage people to join its campaign and support its mission. They had to do this quickly, with a small team and no budget.
Amplify your message
Grassroots groups face an uphill battle in getting heard against powerful corporate interests - especially those like Facebook that can suppress negative articles on them. Volunteers have limited time to protest. Press coverage of protests is fleeting. Corporations hide their connections and who is paying them. People have limited time to understand complex issues. 
Organizers need a simple, affordable way to expose threats to democracy and corruption in order to build public support for change.
Kumu is a free storytelling apps that meets this challenge. It can be used to create visual stories to explain an issue quickly and clearly. It combine news articles, images and videos into an interactive story that is easily shared online and updated with new information.
These two examples show how Kumu can be used to explain many issues.
Take Away
Use the free Kumu app to make sure your message gets heard. Learn more here. Deepak
Co-Founder, DemLabs
Please share this bulletin. DemLabs is a SF-based, progressive hub for ongoing technology and creative innovation with free and affordable apps. Donate here to support our work.