How does a candidate with a small budget standout in a crowded field? Innovation.
Seeyew Mo is running to represent S.F. Assembly District 19 at the Democratic County Central Committee (DCCC). As a Chinese American, he understands ways in which the Chinese community is often overlooked. He needed a low-cost way to reach his heavily Chinese district with information that they would find useful.
Seeyew's team built the Chinese Count mobile app in Chinese about the importance of taking part in the 2020 census, job openings with the census and details on Seeyew's campaign. They used the free Glide app and advice from DemLabs to build the app in a day.
---
Background
Seeyew's campaign emphasizes the need to apply fresh thinking to serve the community. His Chinese Count app embodies that vision. The app is timed to be released with Chinese New Year festivities and just before the Census count and the DCCC election.
The app is shared on WeChat, a popular Chinese app in addition to Twitter and Facebook, through a link: http://bit.ly/chinesecount. Stickers with the QR code to the app will be placed near Chinese stores in the district. Scan the QR code below with your smartphone to see how it works.
How the app was built
Seeyew's team first collected details on the 2020 Census and organized it in a Google Sheet. A mobile app was built with Glide to provide information in Chinese in a convenient, searchable form. The app even includes Census-related videos in both Mandarin and Cantonese.
Try the Chinese Count app on your phone with this link, or watch a video demo here.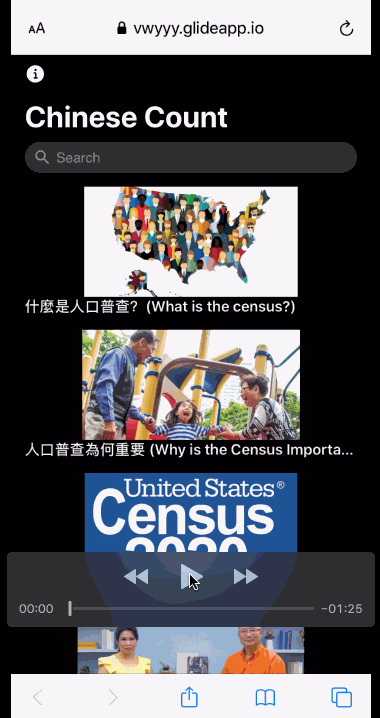 ---
Worried About Your Child's Well-Being If You're Deported? There Is An App For That.
Make The Road Nevada also used GLIDE to design its ImmigrantCountry app. The app explains immigrant rights, what to do in an ICE raid, how to arrange for childcare if deported and includes links to over a dozen groups serving immigrants.
---
Take away
Savvy marketers focus on cost per lead. How much will it cost to get their message to potential customers? It is the same with campaigns. How can you reach and persuade the most people for the least amount of money and time?
The ChineseCount and ImmigrantCountry apps both slash the cost per lead (voter). The cost of the apps is kept down by using free software and helpful information encourages viral distribution.
Best wishes for the Chinese New Year!
Deepak
Co-Founder, DemLabs
Please share this bulletin. DemLabs is a SF-based, progressive hub for ongoing technology and creative innovation with free and affordable apps. Donate here to support our work.